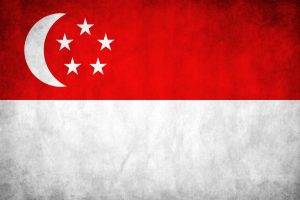 Key Points:
Tuition Fess are 10% higher for Non Citizens, but still heavily subsidized. Singapore Permanent Residents and International Students paying subsidised fees must take up the tuition grant and sign a Tuition Grant Deed, which will require them to work in Singapore-registered companies for three years upon graduation. At SMU, for example,

Singaporeans pay S$11,300
Permanent residents pay S$15,800
International students with a subsidy pay S$24,100
International students with no subsidies pay S$42,970

With permission of the university, you can work part time while studying.
The number of international students may be capped at each university. At Nanyang, for example, it is 18%.
Advanced placement recognition policy varies considerably by institution. Check the Collegeboard AP website for specific details. 
AUTONOMOUS UNIVERSITIES
Polytechnics
Founded
Autonomous University
Students
Notable Colleges/Schools
Full name
Abbrev.
1905
National University of Singapore


新加坡国立大学




Universiti Kebangsaan Singapura




சிங்கப்பூர் தேசிய பல்கலைக்கழகம்

NUS


国大

39,536

1981
Nanyang Technological University


南洋理工大学




Universiti Teknologi Nanyang




நன்யாங் தொழில்நுட்ப பல்கலைக்கழகம்

NTU


南大

31,827

Lee Kong Chian School of Medicine

2000
Singapore Management University


新加坡管理大学




Universiti Pengurusan Singapura




சிங்கப்பூர் நிர்வாக பல்கலைக்கழகம்

SMU


新大

9,697
SMU offers a broad-based business curriculum modelled after that of the Wharton School of the University of Pennsylvania.
2009
Singapore University of Technology and Design


新加坡科技设计大学




Universiti Teknologi dan Rekabentuk Singapura




சிங்கப்பூர் தொழில்நுட்பம் மற்றும் வடிவமைப்பு பல்கலைக்கழகம்

SUTD


新科大

1,341
established in collaboration with the Massachusetts Institute of Technology and Zhejiang University
2009
Singapore Institute of Technology


新加坡理工大学




Institut Teknologi Singapura




சிங்கப்பூர் தொழில்நுட்ப கல்வி நிறுவனம்

SIT


新工大

5,000 
2017
Singapore University of Social Sciences


新跃社科大学




Universiti Sains Kemasyarakatan Singapura




சிங்கப்பூர் சமூக அறிவியல் பல்கலைக்கழகம்

SUSS


跃大

13,641